Concussion & Safe Rugby
The Munster Rugby Development Department, in conjunction with the IRFU, host Concussion Awareness Workshops throughout the season.
All Club and School coaches and officials are encouraged to attend the workshops which are free of charge.
The IRFU's Medical Co-ordinator hosts all of the workshops which include modules relating to Concussion Recognition Management and Return to Play protocols followed by a Question and Answer session.
The content has been designed to educate coaches, parents, players and referees on the dangers of concussion and how to recognise it.
All details of upcoming Concussion Awareness Workshops will be posted here.
SAFE Rugby
The SAFE Rugby – Standard Approach to Field Emergencies in Rugby – programme aims to provide rugby specific, pitch side emergency care training and skills to medical staff and non medical individuals involved at all levels in Irish rugby.
Check for available courses in your area – click here.
There are three different levels of SAFE Rugby training available:
Level 1: Coaches, club officials, referees, parents/guardians (1 day course)
Level 2: Domestic game medical and allied health professionals (1 day course with assessment)
Level 3: Restricted to professional game medical staff (2 day course with assessment)
Level 2 & 3 courses are recognised for Continuing Professional Development (CPD) credits. All levels have pre-course on line modules that must be completed before the training day.
The SAFE Rugby Level 1 course is specifically targeted at non-medical club and school coaches, players, referees and parents. Following the same key principles as the other levels, it is very user friendly and allows plenty of time to have all of those questions that you had stowed away to be answered by IRFU instructors.
Check Your Studs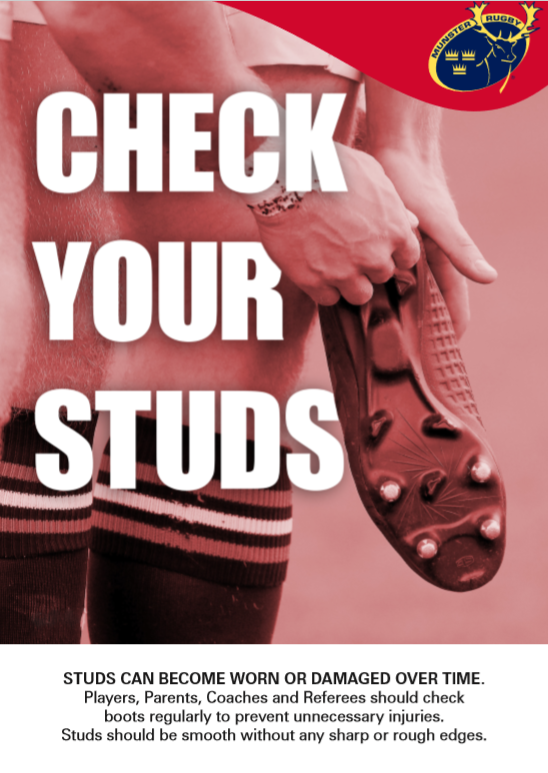 Concussion Awareness
The IRFU Concussion Guidelines
The IRFU Medical Department has developed a series of videos highlighting the importance of proper management of concussion in the domestic game. The videos, which feature former Ireland international Alan Quinlan, have been specifically tailored for the key decision makers in the domestic game, namely, players, coaches, officials and family members.
Specific concussion education videos have been produced for the senior player, the junior player, for referees and for family members in order to highlight the seriousness of concussion and the role each of these groups has in the safe management of concussion within the amateur game.
To support this resource, the IRFU have developed a hub webpage where all concussion info will be available.
Click HERE to watch the graduated return to play video guides.