Greencore Munster Rugby Academy: Developing Players As People
10th May 2018 By The Editor
Fourteen staff members work across the Greencore Munster Rugby Academy to ensure the continued development of top class young players into the Munster Rugby squad.
Fourteen staff members work across the Greencore Munster Rugby Academy to ensure the continued development of top class young players into the Munster Rugby squad.
Here is part one of our Greencore Munster Rugby Academy Series and view part two here.
While the main focus is on developing the Academy members as rugby players, an increased focus is being put on developing the players as people. While educational modules on areas such as financial planning, nutrition, and rest and recovery have previously been delivered to Academy members, support is also in place regarding their third level education.
Due to the difficulty of making a career out of professional rugby, Academy players have always been encouraged to enrol in a college course while in the Academy to ensure they have a qualification outside of the game to fall back on.
With the ever increasing focus on education and personal development, additional initiatives are in place to help develop the players as people.
Lead Sub Academy Strength and Conditioning Coach Feargal O'Callaghan has worked at Munster Rugby just shy of 20 years and has overseen the development of a huge amount of players that have gone on to play for Munster and Ireland.
O'Callaghan, Head of HR Claire Cooke and Elite Player Development Manager Peter Malone are spearheading the new initiative which sees a further emphasis on players following a dual career pathway.
O'Callaghan says: "Other than just seeing them as rugby players, we obviously see them as people first, and always have, but it's about resourcing that aspect more so now.
"They have lives outside of rugby and if we want them to be successful in their sporting lives, then we have to make sure that other parts of their lives are looked after as well.
"If they come in happy and content they're going to train better. More of my efforts will be focussed on helping players coming into the Academy programme, looking at things like accommodation, and being the liaison for them in making the transition. It's a people-centric approach.
"With our base in UL we are working closely with the university in ensuring players find suitable courses, and helping players with their education choices," says O'Callaghan. "It is a challenging environment when managing workload and studies and, in some cases, it suits players to spread the load of a four-year degree and do it over five or six years so these are all things we can look at."
While an average of three Academy members move up to the senior squad every year, a number of players leave the system every year without a contract due to the nature of professional sport.
"Marcus Horan of Rugby Players Ireland would be involved in supporting players that are leaving the Academy process," he says. "That could range from helping players find another club or helping them get into third level education. It's something we are very conscious of and it's very important for these lads to make sure that they have something outside of rugby.
"Former Munster players Johnny Holland and Cathal Sheridan came in and spoke to them about careers that are cut short through injury and the importance of having a qualification or career pathway to fall back on. It's something that is becoming more of an issue because young guys are so focused on becoming professional players that sometimes they forget about the rest of life and that's what we're looking to address at an earlier stage."
Tomorrow we speak to Mental Skills Coach Cathal Sheridan as we complete our in-depth look at the Greencore Munster Rugby Academy.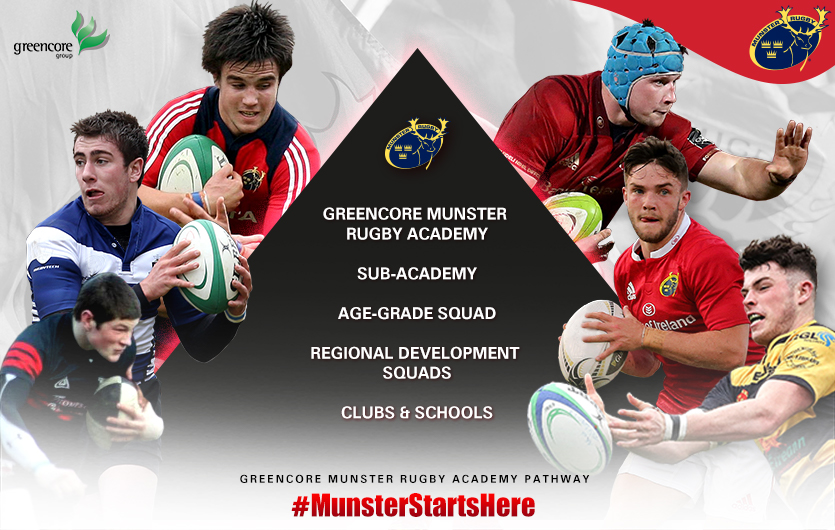 Share