Only 80 Season Tickets Remaining
3rd May 2018 By The Editor
After a huge uptake of Munster Rugby Supporters Club renewals and Season Ticket sales, we are down to the final 80 Season Tickets for the 2018/19 campaign.
There are two weeks remaining to purchase a Season Ticket but with supporters catered for on a first come first served basis, we advise you to purchase as soon as possible to avoid disappointment.
Tickets and membership can be purchased from the Munster Rugby Ticket Offices in Thomond Park and Irish Independent Park, online here or by calling 021 4323737.
Click here for an outline of Season 2018/19 Pricing and Packages.
Benefits
Up to 25% discount versus game by game
KIDS GO FREE (Excluding Leinster & European matches)
Transfer the tickets you can't use
Access to 6 Nations, away European and play-off tickets
And much more!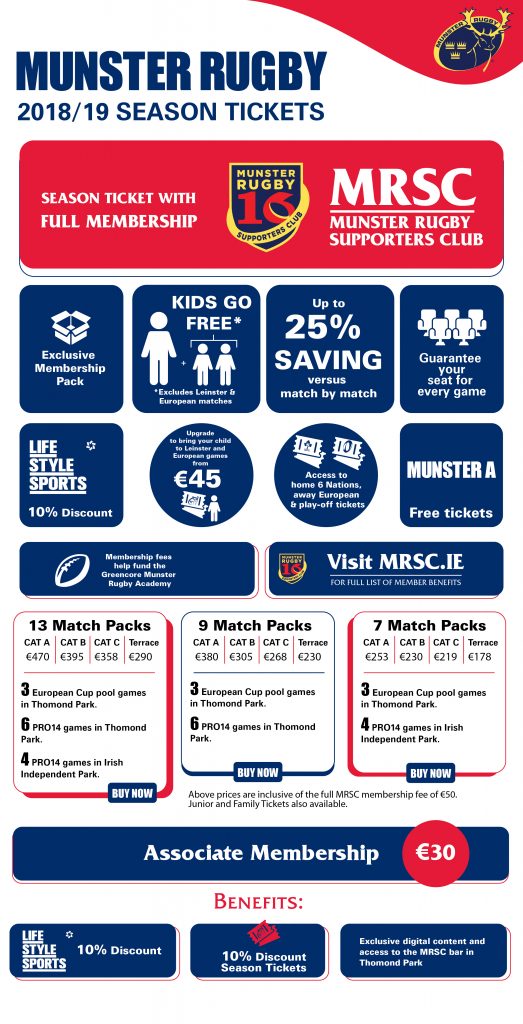 Payment Options:
As always, members will be given two payment options for their MRSC Season Ticket and Membership. See options below:
Option 1: Full payment at the time of renewal (Members who chose to pay for their season ticket in full at the time of renewals will be offered free entry to all pre-season games.)
Option 2: Staged Payment (Over 6 Months):
1st Payment At the time of purchase
2nd Payment June 3rd
3rd Payment July 3rd
4th Payment August 3rd
5th Payment September 3rd
6th Payment October 3rd
Share