Heineken Cup Fixtures Announced
22nd July 2013 By Munster Rugby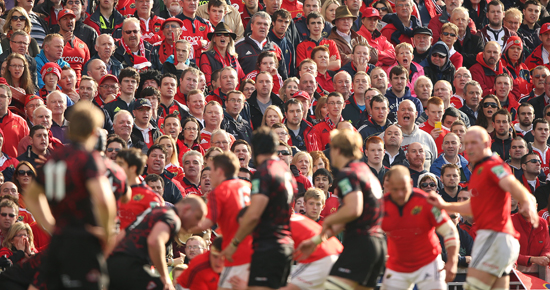 Munster's 2013/14 Heineken Cup campaign will start in Murrayfield on Saturday October 12th against last year's pool opponents Edinburgh Rugby.
Round 2 will see Munster welcome Gloucester Rugby to Thomond Park a week later with an evening kick-off time of 6pm. The Premiership side will familiarise themselves with the new Thomond Park Stadium when they arrive for our opening pre-season game on Saturday August 24th.
The tough task of the back to back games in December includes a home start against Perpignan on Sunday December 8th and the return leg six days later at Stade Aimé Giral. In the New Year Munster travel to Kingsholm for round 5 and then complete their pool games at home in Thomond Park for round 6 against Edinburgh Rugby.
The dates and kick-off times for rounds 5 and 6 will be confirmed after the round 4 games are completed.
Pool 6 Heineken Cup Fixtures:
Round 1
Sat. Oct. 12th: Gloucester Rugby v USA Perpignan, Kingsholm Stadium, 6pm
Sat. Oct. 12th: Edinburgh Rugby v Munster Rugby, Murrayfield Stadium, 1.35pm
Round 2
Sat. Oct. 19th: Munster Rugby v Gloucester Rugby, Thomond Park Stadium, 6pm
Sun. Oct. 20th: USA Perpignan v Edinburgh Rugby, Stade Aimé Giral, 1.45pm
Round 3
Sun. Dec. 8th: Edinburgh Rugby v Gloucester Rugby, Murrayfield Stadium, 1pm
Sun. Dec. 8th: Munster Rugby v USA Perpignan, Thomond Park Stadium, 12.45pm
Round 4
Sat. Dec. 14th: USA Perpignan v Munster Rugby, Stade Aimé Giral, 4.40pm
Sun. Dec. 15th: Gloucester Rugby v Edinburgh Rugby, Kingsholm Stadium, 3pm
Round 5
Weekend 10/11/12 Jan. 2014: Gloucester Rugby v Munster Rugby, Kingsholm Stadium
Weekend 10/11/12 Jan. 2014: Edinburgh Rugby v USA Perpignan, Murrayfield Stadium
Round 6
Weekend 17/18/19 Jan. 2014: Munster Rugby v Edinburgh Rugby, Thomond Park Stadium
Weekend 17/18/19 Jan. 2014: USA Perpignan v Gloucester Rugby, Stade Aimé Giral
Share