Academy Players Get Set For Interpros
24th July 2013 By Munster Rugby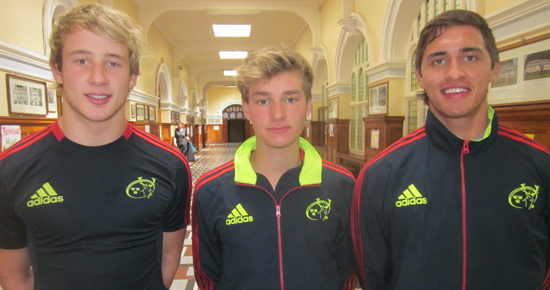 Five Munster Rugby Academy players are involved with age-grade squads attending the Munster Rugby Talent Camp in Rockwell, training in preparation for the upcoming Interprovincial Championships.
Four of the five players are training with the U20s squad, including David Johnston (Fullback), Gearoid Lyons (Outhalf), John Madigan (Lock) and Greg O'Shea (Winger), while Jack Cullen (Scrumhalf) is with the U19s.
We talk to Head Coach Peter Malone about the summer schedule for the academy players. "There's a big training load on the guys so we are just monitoring that as they go along and there's a small few niggles starting to appear but we are into our fourth week of the programme so it is expected.
Next week will be a download week so they will get a really good rest to regenerate and then get themselves ready to go again. Thankfully, touch wood, there are no serious injuries at the moment just niggles, tight hamstrings and backs, but that's it.
These age-grade players train Tuesday, Wednesday and Thursday in Rockwell and with their academy peers on Monday and Friday in Cork and Limerick, doing some gym, skills and rehab work those days.
We have a very young academy group this year and the upcoming Interprovincial's provide a perfect opportunity for people to see these young guys and the next generation of Munster Rugby players in action.
The U20s group are working closely with our Elite Development Officers Greig Oliver and Colm McMahon, and former Munster players Denis Leamy and Mossy Lawler are helping out as well. Everyone is just working really hard and there is a good bunch of guys there with really good attitudes.
Academy players outside the age-grade squads mix and match their training programme, with some of them falling in and out of the senior sessions, and then otherwise during the week they train twice as a group and three times in their separate centres."
Munster U20s Interprovincial Fixtures:
Fri. 6th Sept. Ulster Rugby v Munster Rugby, venue TBC
Fri. 13th Sept. Munster Rugby v Leinster Rugby, venue TBC
Fri. 20th Sept. Connacht Rugby v Munster Rugby, venue TBC
Munster U19s Interprovincial Fixtures:
Sat. 7th Sept. Ulster U19 v Munster U19, venue TBC
Sat. 14th Sept. Munster U19 v Leinster U19, venue TBC
Sat. 21st Sept. Connacht U19 v Munster U19, venue TBC

Share