Club News: Week Ending 28.07.13
22nd July 2013 By Munster Rugby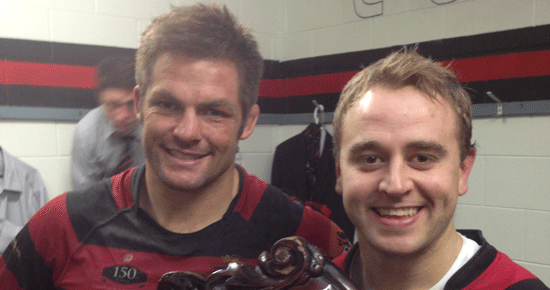 This week's Club Notes come from Killarney, Nenagh Ormond, St. Senan's and Waterford City Rugby Clubs.
This week's Club Notes come from Killarney, Nenagh Ormond, St. Senan's and Waterford City Rugby Clubs.
Click here for Killarney Club Notes
Click here for Nenagh Club Notes
Click here for St. Senans Club Notes
Click here for Waterford City RFC
Courtesy of Mike Fuller, Club PRO
Tag players are invited to join in on a Super Fun Tag Weekend in Killarney RFC from Friday, 30th August to Sunday, 1st Sept 2013.
For more details check us out on www.tagkillarney.com or www.facebook.com/TagKillarney
Courtesy of Eithne Darcy, Club PRO
Rugby News
Summer 2013 has been almost as busy as the playing season at Nenagh Ormond. Summer skills sessions for both
Senior and Juvenile teams have been well attended and our coaches deserve massive thanks for their dedication and hard work. Having finished just outside the play-off places in 2012-13, the mood is upbeat among our Senior XV and the lads are all putting in the hours to make sure that they are ready to perform when the league starts.
Nenagh are sticking with the fantastic home-grown talent which has seen them do so well on and off the pitch for the last couple of years. With just a couple of players departing and a couple returning the team remains largely unchanged this year.
Events
Two big fundraising events during our 'off season' mean that the players are not the only busy ones in the club this summer!
The first took place on 30th June when we held a very successful Strictly Come Dancing night at the Abbeycourt Hotel in Nenagh. The dancers included players from both the mens and ladies teams as well as club members and other members of the community. The event was well supported and all present enjoyed the entertainment. The dancing was of a particularly high standard and thanks must go to dance teacher Derlene Cleary who choreographed some fantastic routines. Our judges Gerry 'Ginger' McLoughlin, Nikki MacLoone, Paul Malone and Liam Sheedy were very professional and extremely entertaining when sharing their thoughts and opinions on the dancers' efforts and the fabulous Michelle Geraghty did a great job keeping the show on the road.
Thanks to everyone involved in any way in organising the event and, of course, thank you to all of you who came out to support us on the night.
The second event is our Tag Rugby & Music Festival which takes place this Saturday, 27th July. A combination of sport, music, food and craic, this is a day that everyone can enjoy! This year's Ruck 'n' Roll Tag Festival promises to be even bigger and better than last year.
And the rugby is not the only entertainment on the day! U2 tribute band Rattle & Hum are set to headline, the best U2 tribute band on the planet according to Hot Press. They will be supported by several local bands who will be announced in the next few weeks. The Food Village will be there from morning till late and you can relax between games in our VIP Cocktail Lounge.
Parking is free and there will be a shuttle service back into town later in the night.
Teams can register by contacting Seanie on 087-2485832. A team of 12 can register for just €240 (€20 each) and this includes entrance to all festival events. If its the music and craic you're after, entrance to the after-tag gig is just €10!
You can keep informed of all event updates by following us on facebook (nenaghormondrfc) and by checking our club website (http://www.nenaghormondrfc.com/).
Nenagh Ormond RFC clubhouse is a popular venue for private functions, birthdays, parties and other such events. To book your event, contact us through our website www.nenaghormondrfc.com or contact any committee member.
Courtesy of Robbie Hoban, Club PRO
The Christchurch FC back, and St. Senan's RFC underage and Junior 1st team player Diarmuid McMahon recently got the chance of a rugby-playing lifetime when he lined up alongside All Blacks captain Richie McCaw. The legendary flanker was playing for his club side after taking a seven-month break away from the game.
Diarmuid McMahon moved down to New Zealand a couple of years ago and signed up with the Christchurch Football club known locally as the Axe men, the oldest rugby club in New Zealand and the 2nd oldest in the world. Speaking about how his friends reacted to his most memorable match McMahon said" I got abuse all night and was called 'superstar. I couldn't drop the ball or else they'd rip into me again."
Christchurch are playing in division one of the Canterbury Metro competition. This division is made up with players from the ITM cup (which is the division just below Super Rugby) and super rugby players who are out of the match day squads for the Canterbury Crusaders.
The Crusaders players regularly play in this division when there is a break from super rugby or from the All Blacks.
And that my friends is how Diarmuid a couple of weeks ago played in the same team as the legend that is Richie Mc Caw. So lads remember the Munster Rugby moto "to the brave and the faithful nothing is impossible).
Courtesy of Damien Kennedy, Club PRO
Club President
The club would like to thank Dixie Daniels for his hard work over the past two years as club president and
congratulate incoming president Jason Power .Jason has been a loyal servant to the club for many years both on the field as a player and off the field as a committee member and we would like to wish him all the best in his new role.
Mini Beach Rugby.
On Sunday last we ran our beach rugby for children between the ages of 5-12 years old on the beautiful Tramore beach, another fantastic day with a great turnout, some silky skills on show and smashing weather, the kids thoroughly enjoyed the day and we look forward to seeing them all back on the pitch in the coming weeks. The club would like to thank all those involved in organising the day and also Tramore town council for the use of the beach .If you have a child with an interest in playing rugby why not contact Stephanie McGrath on 086-8961703
U-18 Squad
Our U-18s have returned to training in the past few weeks with good numbers on Wednesday's and Friday's at 6:00 out in Kilbarry, if you have an interest in playing rugby why not contact Dave Phillips on 087-9475136
Men's Team
Our Men's team returned to training last week which began with a squad meeting last Tuesday with Head Coach Peter Jones, Forwards coach Neil Kennealy and Team Manager Donal O Brien, the club would like to congratulate Dave O Connor on continuing his role as club captain for the 2013-2014 season, over 43 guys trained during the week which is a great start and hopefully those numbers will rise as week's progress .We return to the pitch this Tuesday at 6:45, on Wednesday evening we will train with Waterford Muay Thai in Lacken Wood at 6:30 at a cost of €3 per person , on Thursday we return to the pitch at 6:45 and on Saturday we will run our yearly in house 7's competition from 3:00 until 6:00 with a team social afterwards.


Share