Artificial Pitch Installation Progressing Well
31st May 2018 By The Editor
The major upgrade works being carried out by PST Sport at Irish Independent Park are progressing very well with the project nearing the halfway mark and ahead of schedule.
The modified 3G pitch surface is being installed by Tralee-based PST Sport and will be completed this summer ahead of Munster's pre-season games against London Irish and Exeter Chiefs.
Work started on Tuesday, May 8, as they dug down half a metre into the pitch, levelled the sub-base and installed 3,000 metres of drainage piping and 200 metres of irrigation piping.
The entire irrigation system was installed, including pop-up sprinkler heads to water the pitch in the summer months to keep it damp.
A three-inch stone base is currently being laid and that will form the base for the modified 3G pitch.
The first phase of the project will be fully completed tomorrow (Friday), awaiting the laying of the surface.
Munster Rugby Head of Operations, Philip Quinn, said: "In terms of facilities, it is fantastic to see this phase of our long-term strategy progressing. Since 2015 we have installed a new 3,500 seated stand and covered terrace at Irish Independent Park, improved match-day facilities, and will now have access to a consistently world-class surface all season."
The significant development of the facilities at Irish Independent Park is an integral part of the province's long-term strategy for the Cork area.
Funded in part by Munster's own commercial revenue streams, including the Munster Rugby Annual London Dinner, and a Sports Capital Grant, the new artificial pitch will allow for a significant increase in games played and hosted events, on a consistent basis, assisting the province's efforts of growing the game at grassroots level.
Irish Independent Park is already the focal point for rugby in the South Munster region and this upgrade will allow for further opportunities going forward, benefiting the wider rugby community.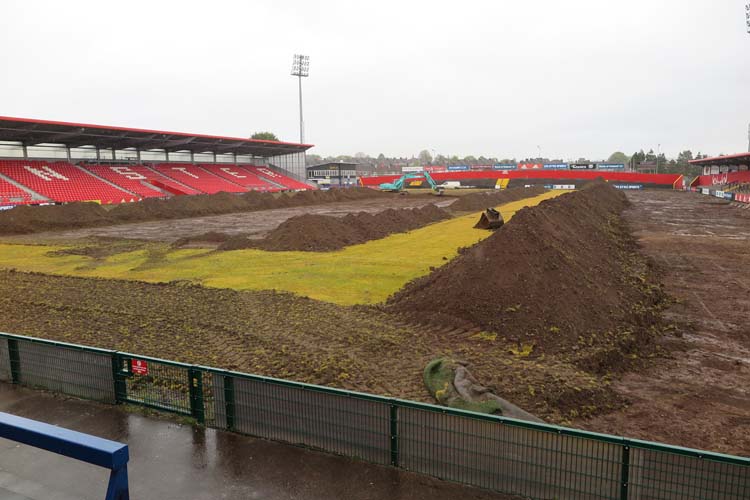 The first step was digging down half a metre into the pitch.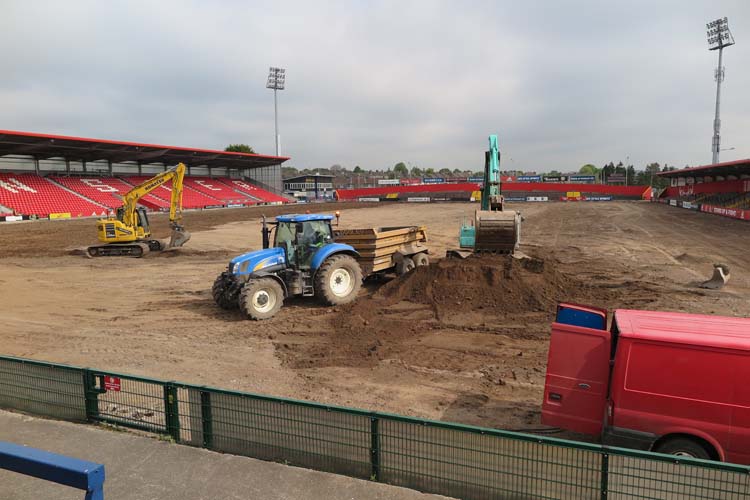 The soil was removed.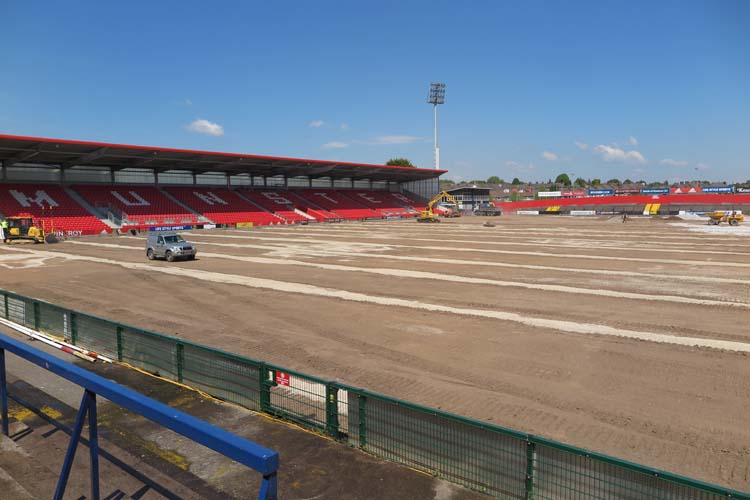 3,000 metres of drainage piping and 200 metres of irrigation piping were installed.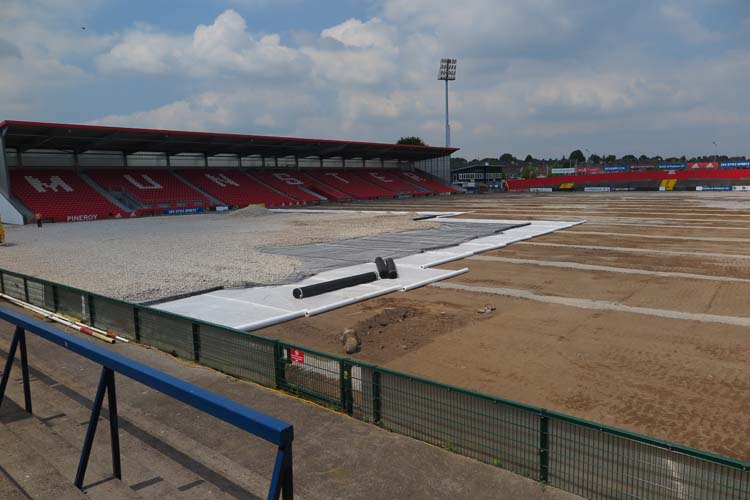 The three-inch stone that will form the base of the synthetic surface will be fully laid by tomorrow (Friday).
FAQs
Why are Munster Rugby changing from a grass surface?
At present there is no suitable artificial surface for rugby in the south of the province. We currently host up to 54 games a season in Irish Independent Park, and in meeting the highest standards this investment in altering the pitch surface will allow us to cater for multiples of this year-on-year, directly benefitting the sport and wider community.
Why do Munster Rugby not install the artificial surface on one of the back pitches in Irish Independent Park?
Each of the back pitches are leased to a tenant club so are not available for use by Munster Rugby at present. In addition to this, the cost of upgrading these would be significantly higher than the main pitch.
What maintenance cost and upkeep is required?
The maintenance cost for the new surface is significantly lower than the current cost of maintaining the grass surface. The surface will be inspected on a bi-annual basis to ensure it meets World Rugby criteria.
Will the new pitch be used as a commercial offering?
Yes. We will be pursuing additional commercial opportunities for the facilities, and will review all possibilities.
What is the longevity of the surface?
PST Sports are installing an artificial sports turf that is so resilient it comes with a 12-year manufacturer's warranty, based on 30 hours usage per week, over and above the industry standard eight-year period.
Will there be an increase in PRO14 games played at the venue?
At the moment we play four PRO14 games in Cork. If the province were to move a game from Thomond Park it would have significant financial implications due to capacity and commercial constraints. Additionally, Irish Independent Park hosted all of Munster A's home British and Irish Cup games this season.
When will the first Munster game be played on the new surface?
Both pre-season fixtures will be played on the new surface.
Friday, August 17
Munster v London Irish, Irish Independent Park, 7.30pm;
Friday, August 24
Munster v Exeter Chiefs, Irish Independent Park, 7.30pm;
Will clubs and schools be able to avail of the facilities?
Irish Independent Park will continue to host domestic competitions at every level and Munster Rugby will now be in a position to commit to a greater number of games without being affected by the weather.
Will the tenant clubs, Dolphin RFC and Sundays Well RFC, have access to the new surface?
The relationship with the tenant clubs will continue in line with current practice.
Why is it referred to as a modified 3G surface?
Although a common term, 4G is not a pitch surface, and the modified 3G surface is the highest available spec. Working with PST Sports we are installing a world-class artificial surface.
About PST Sport
PST Sport, a Tralee-based company with offices in Dublin and London, is recognised as a leader in artificial sports pitch installations and stand-alone floodlight systems across Ireland and the UK. We build high performing synthetic sports surfaces, from full size pitches to training surfaces for all sporting codes.
Our artificial grass is manufactured by CCGrass who are the largest producer of artificial grass worldwide. CCGrass are one of only three manufacturers with preferred producer status to World Rugby, FIFA and FIH.
With in-house expertise across each facet of pitch construction, the latest plant and machinery, rigorous testing at different stages, industry leading warranties and an unrivalled after sales programme, a PST Sport synthetic grass pitch is like no other in terms of quality and client satisfaction.
PST Sport has been working closely with CCGrass for two years developing this new range of artificial grass carpet. This stadium grade artificial grass turf is highly resilient while maintaining the soft touch and feel of natural grass. Infill splash control is one of many unique benefits, delivered using a combination of monofilament and thatched yarns along with PST Sport's cutting edge installation techniques.
Share