Greencore Academy Update
18th September 2015 By Munster Rugby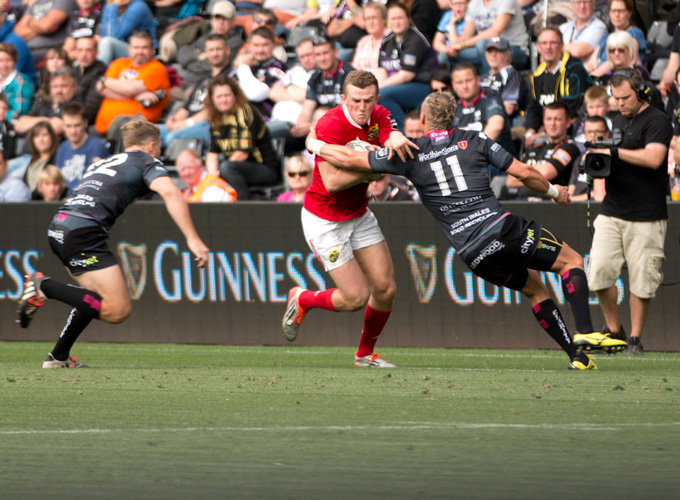 Elite Player Development Manager Peter Malone looks back on what have been a busy couple of months for Greencore Munster Academy members.
Elite Player Development Manager Peter Malone looks back on what have been a busy couple of months for Greencore Munster Academy members.
Senior representation in pre-season friendlies and opening rounds of the Guinness PRO12…

"In World Cup years especially, our guys get more training time with the seniors and if they perform they get more game time also. This year our lads have done well in that environment. The older lads like Rory Scannell, John Madigan and David Johnston all started against Treviso in the first PRO12 game of the season with Stephen Fitzgerald acquitting himself very well away to Ospreys last weekend. We also had the likes Steve McMahon, Conor Oliver, Sean McCarthy, Ryan Foley and Rory Burke get some game time in pre-season and not forgetting sub-academy player Bill Johnston who featured and went well in all three pre-season games – starting against London Irish.

"It gives them great rugby experience at a higher level and allows them show their wares to senior coaches. If the opportunity presents itself again in the coming months they'll be that bit more ready to take it."

Rory Scannell's Emerging Ireland representation…
"To win selection for the Tbilisi Cup is a mark of how far Rory has come in the last two years, so much so that Anthony (Foley) now probably sees him as an integral part of the senior squad even though he's still in the academy. He's capable of challenging for a starting position each week and has shown he's able to step up and make those big plays in senior games. Rory has carried himself very well both on and off the field, doing well in college as well as training hard and has been exemplary in his time with the academy to date."

Munster 7s representation at the Limerick World Club 7s…

"The tournament gave players the opportunity to try something different and there's a bigger focus coming on Sevens now that we have a national programme in place. Some of our guys like Alex Wooton, Gearoid Lyons, Dan Goggin and Young Munster's Diarmuid McCarthy were very prominent over the summer at national level and the Limerick World Club 7s provided some of those lads and our younger academy members with some valuable game time.

"I think Sevens is something we'll see more of and it's a good feeder system into the game, especially for outside backs. It's a good confidence builder as well because you get your hands on the ball a lot more and have greater opportunities to get into the game."

Return to AIL action for academy members…

"Any of our guys who are not involved with the senior or representative sides and are fit to play will feature for their clubs in the AIL. It's an important stepping stone in players' development and we are looking for these guys to stand out and perform for their clubs and demonstrate that they are ready for the next step up in professional rugby.

"By training well and playing well for your club, you put yourself in the shop window for higher honours."

Age-Grade Interpro involvement (U20, U19, U18 Clubs, U18 Schools)…

"The most important aspects of these interpros are to test yourself against the other provinces and identify and develop talent for the future.

"The U19s and U20s had a very comprehensive programme based in the Mardyke (Cork) and Castletroy College (Limerick). We were in a camp every Monday and Tuesday and trained like a professional team would train, giving players a taste of that environment.

"Our U18 Clubs and Schools followed a programme in Rockwell College at the Munster Talent Camp. That too went very well with a good output of talent and both sides we're unlucky in losing to Leinster in Donnybrook. The losses don't change the fact that a lot of good players were on show with the potential to play for Munster at a higher level in the future."

Three of Munster's representative sides are in contention for titles this weekend. View a full preview here.


Injury Update…
"In terms of longer term injuries, Brian Scott (neck and shoulder) and Darragh Moloney (ankle) continue to rebab well but in terms of comebacks we are looking at weeks into a couple of months depending on the progress made.
"Jack Cullen is another on the longer side of things after undergoing shoulder surgery for an injury sustained during the Limerick World Club 7s.
"Ben Kilkenny is coming back from a longer term thumb injury and will have an extended return to contact period in the coming weeks.
"Dan Goggin (groin) should be back in 3 to 4 weeks while we're looking at 4 to 6 weeks for Gearoid Lyons (thumb)."
"The rest thankfully are mainly short term injuries with Ryan Foley (knee), Liam O'Connor (hamstring) and Rory Burke (groin) all expected back in the coming couple of weeks."
Share