IRFU Launch Concussion Guide
9th December 2013 By Munster Rugby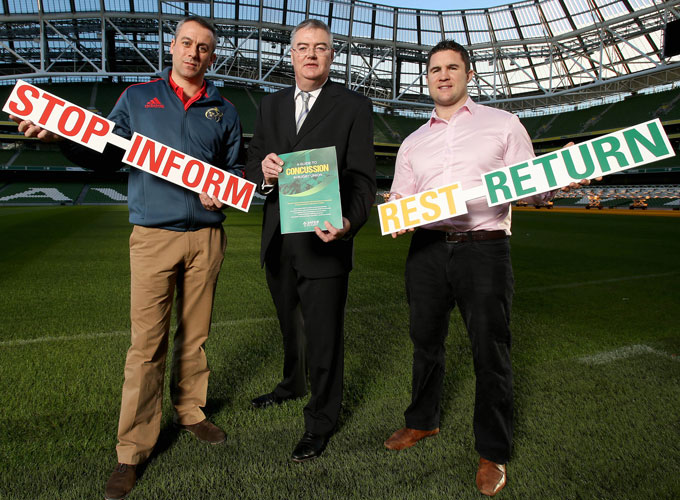 The Irish Rugby Football Union, in conjunction with Munster, Connacht, Leinster and Ulster Rugby, today launched a new concussion guide to educate those playing, supporting or officiating rugby.
The guide warns of the dangers of concussion and dispels the myth of a 'knock to the head', it also shows how to recognise the signs and symptoms of concussion and warned that ignoring symptoms and continuing to train or play can in rare instances be fatal.
A Guide to Concussion in Rugby Union outlines four simple, important, messages:
1. Stop – A player with a suspected concussion must be removed immediately and must not return to the field.
2. Inform – A player with suspected concussion should report it to a team medic, coach, teammate, friend or family member and be properly assessed and managed. They must not be left alone or drive a vehicle.
3. Rest – A player with a concussion must undertake a mandatory rest period as per IRFU guidelines outlined in the Guide to Concussion in Rugby Union.
4. Return – A player with a concussion must follow the IRFU Graduated Return to Play protocols and should be medically cleared prior to returning to full contact.
It calls on players to be honest with themselves and medical staff in reporting symptoms, outlines the need for comprehensive medical assessment of such injuries and warns that returning to play before the concussion is completely resolved may have extremely serious long-term health consequences.
The guide contains a pocket Concussion Recognition Tool that lists concussion signs and symptoms for players, coaches, officials, parents, team managers and medical staff. This allows them to Recognise and remove any player displaying concussion symptoms until the player has completed the appropriate IRFU Graduated Return To Play protocols. The guide is downloadable from www.irishrugby.ie/medical and will be distributed to every rugby-playing school and club in the coming weeks.
Launching the guide, IRFU Head of Medical Services Dr Rod McLoughlin said:
"Rugby, like all contact sports, can result in injury. Potentially serious injury such as concussion must be taken seriously from the outset. We are adopting a zero tolerance approach to concussion or suspected concussion in an attempt to dispel the myth of a 'knock to the head' or a 'minor concussion'.
"If a player is suspected of being concussed they must be removed from training or the field of play, and not return until proper Graduated Return to Play guidelines have been observed.
"This guide is targeted at everyone playing, officiating or connected with a person who is playing rugby, and follows our recent concussion poster campaign aimed at players of all ages, to reinforce the core message of STOP, INFORM, REST and RETURN.
"This guide, and our traffic light poster campaign, should be displayed in every rugby school and club in Ireland, to ensure more people recognise concussion and take action to reduce the risk of serious injury."
Minister for Transport, Tourism & Sport Leo Varadkar commended the IRFU for producing the guide:
"This is an important document and I urge everyone involved in rugby to study it closely. As a former A+E doctor and a rugby fan, I know the pocket concussion recognition tool will be really useful in spotting this potentially lethal condition.
"We all have a duty to behave responsibly when it comes to concussion, and sensible and safe behaviour can only benefit the game, its players and its fans."
Lending his support IRUPA Chairman Rob Kearney said:
"A recent survey by IRUPA confirmed that concussion is a major concern for players. This concussion guide is a very positive step towards educating those involved in rugby at all levels.
"From a player perspective I would welcome proactive initiatives like this guide and also the IRB Pitch Side Concussion Assessment tool for the professional game.
"Concussion is a complex area and the research is evolving all the time, IRUPA will continue to track this research and work across the various national and international working groups to protect our members.
"As professional players, we must also acknowledge our own responsibility to ensure we are honest and show trust in our medical staff and coaches."
Share