Club Notes: Week Ending 06.10.13
30th September 2013 By Munster Rugby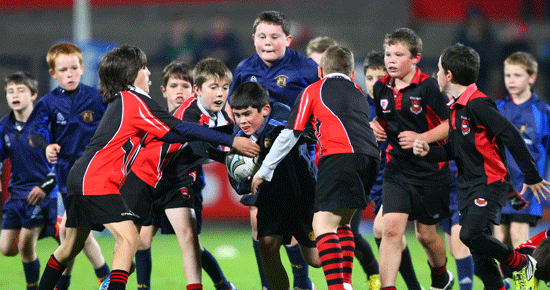 This week's club notes come from Midleton, Nenagh Ormond, Shannon and Waterford City rugby clubs.
This week's club notes come from Midleton, Nenagh Ormond, Shannon and Waterford City rugby clubs.
Click here for Midleton Club Notes
Click here for Nenagh Ormond Notes
Click here for Shannon Club Notes
Click here for Waterford City Club Notes
Courtesy of:- Jason Boyle, Club PRO
Ulster Bank AIL – Nenagh-Ormond 34, Midleton 17
This week saw the start of the Ulster Bank All Ireland League, and Midleton RFC travelled to Nenagh-Ormond to get the campaign underway. As the first league match of the season this was always seen as a tough encounter and that proved to be the case.
Our new fly-half Chris Walker got the game underway with a good kick off and Midleton came up quickly to prevent Nenagh from advancing, but are caught offside and play is brought back to half way for a Nenagh throw. Midleton win the Nenagh line out and pile the pressure on to push forward winning a scrum well inside the Nenagh half with about 5 minutes of the game played.
Midleton continue to pile on the pressure and in these early stages are looking well with Nenagh on the back foot. Midleton win another two scrums on the Nenagh 10 meter line putting on the pressure but Nenagh hold fast. Play moves back and Midleton is then awarded a penalty for Nenagh not rolling away. Christian kicks for the line and it's a Midleton throw just outside the 5-meter line in the Nenagh half.
The Nenagh defence is strong and they win a turnover ball to clear their lines. Midleton return with a long kick and Nenagh decide to run the ball, with just under 15 minutes of the game played Nenagh break through and an easy try is scored. For the conversion, Nenaghs number 10 seems to pause when running for his kick and Midleton take the ball from the tee. The Score is now Nenagh-Ormond 5 Midleton 0.
The speed of the Nenagh back-line is going to be a problem for Midleton for the remainder of this game. After the restart Nenagh again advance and win penalty under the posts -Nenagh Ormond 8 Mildeton 0. The game starts to get away from Midleton at this stage; off the back of a Nenagh Scrum, Nenagh manage to get in for a quick second try, this time converted to leave the score at Nenagh-Ormond 15 Midleton 0. The next period of time sees more pressure from Nenagh – a scrum in the Midleton half followed by a quickly taken free sees Nenagh over for their 3rd try of the afternoon without reply. The score at this point is Nenagh-Ormond 22 Midleton 0.
Another team might be forgiven for throwing in the towel at this stage and Midleton are in bad need of a score to get them going. However, Midleton continue to show character in bringing the game to Nenagh, and following a scrum against Midleton for a knock on in the Nenagh half, Nenagh are penalised for not releasing. Christian makes it Nenagh-Ormond 22 Midleton 3. After the restart Midleton bring the pressure back to the Nenagh half, a quick kick and chase attempt fails and the Nenagh fullback gets to call the mark with the resulting clearance bringing play down to the Midleton half. Midleton are down to 14 men and defending hard wining a penalty to bring play back to the half-way line. Losing the resulting lineout Midleton are again defending hard up to halftime. The score at half time stands at Nenagh-Ormond 22 Midleton 3.
Nenagh restart the second half and Midleton return the ball with a clearance kick that is well fielded and a Nenagh back makes a dash for the Midleton line – he looks to be going in for another Nenagh try when Christian Walker forces a knock on at the Midleton 5m line with a great piece of defensive play. Two scrums later and some tense defence work from Midleton sees play back at the halfway mark. Midleton win a penalty 8 minutes into the second half that is well out from the Nenagh posts but it is driven wide. The score still stands at Nenagh Ormond 22 Midleton 3.
Its all Midleton for the next period of time as the pressure is piled on. The team really try to bridge the gap in score built in the first half. There is a lot of pressure play and both teams seem evenly matched in the scrum at this stage.
With about 15 minutes of second half played Midleton win a penalty and kick for the line. Lineout on about the Nenagh 10m line, Midleton win and drive a great maul for the line to score their first try of the afternoon. All players from 1 to 8 will claim that one! The score is now Nenagh Ormond 22 Midleton 10.
Play stays around the centre of the pitch for the next while and with a Midleton foul we are down to 14 men again. Nenagh kick for the line and from the lineout Nenagh try their own Maul but Midleton hold them out – Nenagh though recycle quickly and move the ball wide to get in for their 4th try of the afternoon. Nenagh-Ormond 29 Midleton 10. The middle phase of the first half looks to be repeating itself as not long after the restart the speed of the Nenagh attack again undoes Midleton and another try results. Nenagh-Ormond 34 Midleton 10.
Still Midleton continues to show great resolve and character by putting pressure on and looking to drive forward. This determination is rewarded when Chris Walker makes a brilliant break up along the left hand line, almost in touch and managing to avoid at least two tackles before offloading to Sean White who goes over for Midleton's second try that is then converted by Christian. The score is now Nenagh-Ormond 34 Midleton 17 with about 10 minutes left in the game, and this proves to be the last score of the game as both teams trade scrums and kicks around the centre of the field as the clock winds down to fulltime.
The real damage was done in the first half however Midleton showed great resolve to get back into the game by scoring two tries, both of which show the strength that Midleton can bring in the forwards and the speed from the backs. While a loss, there is a lot of learning from this game and we are looking forward to the next encounter on Saturday 5th October when Midleton will host Ards at Townspark for our first home league game – kick off 2:30pm.
Midleton in AIL action last Saturday against Nenagh Ormond
Courtesy of:- Eithne Darcy, Club PRO
Senior XV Update
Nenagh Ormond 34 Midleton 17
Nenagh Ormond's AIL campaign got off to the perfect start in Lisatunny last Saturday with a decisive win over Midleton. Nenagh were on top throughout the game, showing the same skill and teamwork that has come to characterise their performances. Anthony Grey opened the scoring when he went over the try line after some good interplay between backs and forwards. Nenagh added a penalty through Dan Fogarty shortly after this to go 8-0 up. Ruaidhri O'Brien had a fantastic game on the wing, showing good pace and footwork to score Nenagh's second try, which Fogarty converted.
Nenagh kept play in the Midleton half and the next try came through a solid and well worked maul. Fogarty again converted. Before half time, Midleton scored their first points of the game when Nenagh gave away a penalty within striking distance of their own posts. Midleton took the three points to leave the score at 22-3 to Nenagh at half time.
Midleton came back into the game in the second half, scoring a good try from a line out maul. However, Nenagh kept the pressure on to score twice again. The first came again from Ruaidhri O'Brien and the second saw Nathan Daly go over after a great break from Jamie Quigley. Midleton showed great spirit, continuing to play for the full eighty, and this spirit was rewarded when they took advantage of a turnover ball to score from their own half. This try was converted to leave the final score at 34-17 to Nenagh.
Team: John Lillis, Ruaidhri O'Brien, Derek Corcoran, Ger Harmse, Dan Fogarty, Mike Fogarty, Eoin Gardiner, Fergal Brislane, Peter O'Connor, John Coffey, Kevin O'Flaherty, Shane O'Callaghan (capt), Michael Slattery, Anthony Grey, Lemeki Vaipulu. Reps: Jamie Quigley, Aidan Doyle, Damien Dunne, Kevin Seymour, Nathan Daly.

Under 20s
Nenagh Ormond 22 UL Bohemians 23
This was a hugely entertaining game played under lights on Friday night with Nenagh Ormond unluckily and somewhat controversially beaten by a single point.
On a perfect evening for rugby, Nenagh kicked off and playing some wonderfully fluid rugby took an early lead with a well struck penalty from impressive out half Willy Carroll. After this good start from the home side, Bohemians stared to find their feet and come back into the game. After 20 minutes they were rewarded with a try under the posts which was duly converted. Next came a sublime piece of skill from Willy Carroll when he kicked a drop goal from fully 40 yards to reduce the deficit.
An exchange of penalties was followed by a great Nenagh movement which ended with Con Lucey crashing over the line to leave Nenagh 14-10 ahead at the half time break.
The second half followed the same pattern as the first with play flowing from end to end. Particularly impressive for the home team were centre Darragh Hassey and full back Dan Finnerty who showed electric speed and willingness to run the ball at every opportunity. Another successful Conway penalty extended the lead but Bohs, having brought in a number of fresh players, started to gain some momentum and leveled the score with another converted try. Two converted penalties from Bohs were matched by another Nenagh try from captain Cian Comerford – leading from the front. The difficult conversion trailed narrowly wide.
Nenagh trailed by a single point with time almost up. They were camped on the Bohs line when off the back of a scrum Con Lucey clearly crossed the line and grounded the ball. Unfortunately the referee was unsighted and awarded another attacking scrum which came to nothing and the final whistle sounded.
A disappointing end to the game but a fantastic performance from the entire team, who can hold their heads high.
Team: Gavin Hayes, Ciaran Lynch, Peter Ryan, Eamon Healy, Paddy Ryan, Cian Comerford (Capt) Con Lucey, Andrew Mackey, Peter O'Leary, Willy Carroll, Aaron Hayes, John Flaherty, Darragh Hassey, Ger O'Gorman, Dan Finnerty, Eoghan Ryan, Conor Leo, Daniel Purcell

Ladies
Nenagh Ormond 12 Ballincollig 7
Nenagh Ormond Ladies faced top of the table Ballincollig last Sunday at New Ormond Park. Having beaten Young Munster with a bonus point the week before, Ballincollig were probably favourites to win. The Nenagh girls were up for the challenge though and from the start dominated the exchanges. Ballincollig are an experienced and well organised team and, despite the Ormond girls working very hard and putting together some great phases, their defence held tough for quite some time. Nenagh stayed patient and, with the scrum and lineout on top, got some good possession and used it well to hold onto the ball and put the pressure on in Ballincollig's half. Eventually the score came when a well taken line out saw the backs get some good ball. Full back Amy Ryan straightened well and off-loaded to winger Niki Lillis who went over in the corner.
Nenagh kept on pushing for the next score and, although they had several chances and actually got over the line through a great carry from prop Marie Louise Ryan who was held up, the Ballincollig defence stayed strong and the score remained 5-0 at half time.
The Nenagh girls talked at half time about keeping the work rate up as they knew from previous experience that 5 points would not be enough to win the match. Unfortunately, Ballincollig came out all guns blazing at the start of the second half and took advantage of some shoddy defence to go over the try line. An excellent conversion from Ballincollig's Number 8 left Nenagh trailing by two points.
Ballincollig's outhalf was using the wind well to put the Nenagh back three under pressure but the Nenagh girls kept the heads down, soaked it up and kept trying to create the chances. In the end it was Number 8 Genevieve Rowland who did what she had been threatening to do for the whole game and broke the line to run in under the posts. Emma Dunlea converted to leave the final score at 12-7 to Nenagh.
The Nenagh girls can be proud of a great performance and special mention must go to the pack whose hard work in the scrums and lineouts gave the team a great platform. Genevieve Rowland's outstanding performance earned her a well-deserved player of the match accolade.
Training continues every Wednesday and Friday at 7.30pm. New players always welcome. Contact Eithne Darcy on 087-2940928 for details.
Team: Amy Ryan, Jennifer Donovan, Breda Doheny, Anna Nolan, Niki Lillis, Caroline Cahalan, Beatriz Carrasco, Hazel Slevin, Gillian Ryan, Marie Louise Ryan, Denise Williams, Aisling O'Neill, Eithne Darcy, Sinead Hennessy, Genevieve Rowland (capt.) Reps: Emma Dunlea, June Whelan, Ann Marie Duke.
Under 18s
Nenagh Ormond 17 Galbally 10
The Under 18s started their East Munster League campaign with a good win over Galbally in Nenagh last Sunday morning. Nenagh scored first through a J Molamphy penalty. However, after that, despite good work in the scrums from R Zamsheed and J Cantwell and in the line outs and general play from M Doughan, Nenagh fell 3 -10 behind. Nenagh then got back into the through a tap penalty from W Ryan which saw I McNamera put C OBrien in space and he finished well for J Molamphy to knock over the conversion.
The second half saw Nenagh absorb some pressure but strong running from L Finn and C Doheny at scrum half and good support from B McAdams and G Mitchell gave Nenagh the foothold for a good charge by N OGorman assisted by A Geaney which lead to J Molamphy making the break. B Moloney supported as usual, taking the pass and scoring by the posts.
At 17- 10 ahead with time to go, Nenagh upped it further. D Keating very nearly got in, A Wagstaff and C OLeary did well in the forwards and C McGrath put in some great tackles. Nenagh finished it out at 17 – 10
A good start but more needed at training on Tuesday and Friday at 7.30pm.
Team: N OGorman , B Moloney, A Wagstaff, R Zamsheed J Cantwell, C OLeary C Dohony, M Doughan, G Mitchell J Molamphy ,C McGrath , L Finn, A Geaney, C OBrien, D Keating B McAdams I McNamera, W Ryan
Under 14s
Galbally 12 Nenagh Ormond 20
The Nenagh Under 14s had their first game of the season with an East Munster League match away to Galbally last Sunday morning. They got off to a great start when Evan Murphy got in for an early try after a clever kick ahead. Nenagh began to pile on the pressure in the forwards but were rocked back when Galbally got a breakaway try to level the game. Then just before half time Ronan Kelly got in for a great try after a brilliant bit of work evading two tackles and racing clear to touch down.
Two more tries followed in a much improved second half performance, scored by Darragh Flannery and Evan Murphy again. Then Galbally got in for a late score but Nenagh held on for a deserved win.
Training continues as normal on Wednesday nights at 7.00 in Tyone and a good attendance is requested as there are some big league games ahead.

Under 13 notes
This Sunday Nenagh made the return journey into Old Crescent in Limerick. Nenagh had a bigger squad of players this week. Once again Old Crescent got off to a strong start and were able to score some early tries before Nenagh got back in the game. The Nenagh forwards were strong in the scrum and line out but lost momentum in the rucks and mauls.
With Nenagh having more players to choose from they were able to make substitutions at half time and in the second part of the match Nenagh got stronger with some good forward driving and rucking. The Nenagh backs had a lot of tackling to do all day and Oisin Larkin and Owen Farrell put in some very good tackles on the day. The Nenagh backs got some good movements going and Matthew Hodgins made a good break to put Peter Rainsford in for a very well worked try.
At this stage though Nenagh had conceded five tries but they kept battling on with some great driving from the forwards. The reward for this was Luke Connolly crashing over for a deserved try. Old Crescent finished very strongly and scored a couple of late tries to give them a decisive victory.
Sincere thanks to all the parents who travelled into Limerick to see the boys in action and also thanks to Old Crescent who provided all the parents and the players with beautiful sandwiches and cakes in their clubhouse afterwards.
Nenagh squad: Patrick Finn, Kevin Harding, James Ferris, Matthew Hodgins, Oisin Larkin, Owen Farrell, Peter Rainsford, Oisin Nevin, Cian O'Farrell, Dylan Knight, Roan Harte-Murphy, Luke O'Gorman, Luke Connolly, Patrick Whelan, Daragh Butler, Oisin McMahon, Oisin Webb, Eoghan Slevin.

Nenagh Ormond Flag Day
Our annual flag day takes place this Saturday, 5th October. We would appreciate if any club members who are available to help out would contact us through facebook (nenaghormondrfc), our website (http://www.nenaghormondrfc.com/) or contact any committee member.
Courtesy of Siofra Scanlon, Club PRO
Unfortunately we were pipped at the post by Blackrock last Saturday, however a great display of rugby with some positives to take from as the season goes on. We have our first away AIL match on Saturday against Corinthians in Galway. Please come along if you can.
Events & News

PRESIDENTS WALK
The "Presidents Walk" is on Sunday 27th October starting in the Club House at 12 pm. The routes are the same as last year at 5k and 10k. A percentage of the money collected will go to local charities. Afterwards back in the clubhouse, food and beverages will be served, music and prizes. Last year was a great success so lets try and make it even better this time. Should you wish to obtain a sponsorship card please contact any member of the Executive Committee. All contact details can be found on www.shannonrfc.com in the contact section.
We would urge everyone to support this great event. It is raising important funds for your club and community.
GOOD LUCK TO OUR U14's
Good luck to our U14's team and coaches who travel to Turin, Italy this weekend to play in the International U14's Rugby Tournament. All at Shannon RFC would like to thank all the sponsors and volunteers who helped with all fundraising and organizing
for this trip. Have fun lads and everyone at the club wishes you the best result.
WELL DONE TO OUR OWN CONOR GLYNN
The National Council for Exercise & Fitness (NCEF) is delighted to announce the recipient of the NCEF Sports Scholarship Programme, having been selected from a high calibre of sporting applicants.
Eighteen year old Conor Glynn from Thomondgate in Limerick is former captain of Ard Scoíl Rís Senior Rugby Cup Team and a player with Shannon RFC since 2006. He has represented Munster at Under 20, Under 19 and Under 18 level. He was a member of the Munster Rugby Talent Identification Squad and has progressed to the Munster Rugby Sub Academy.
Conor will commence the two year – Higher Certificate in Exercise & Health Fitness (HCEHF), at the University of Limerick this October. The HCEHF is accredited by the University of Limerick and is placed at Level 6, Major Award on the National Framework of Qualifications (NFQ). Congratulations to Conor on behalf of all at Shannon RFC
SHANNON RFC CLUBHOUSE, YOUR LOCAL FOR MATCHES
Shannon RFC Clubhouse will be open on Saturday 5th October for the Rabodirect Pro12 game between Munster and Leinster. Why not stop in before the match and see the new look clubhouse. Full bar available and now also serving Heineken beer on tap. Doors open at 5.00pm with kick off 18.45pm in Thomond Park.
SHANNON RFC APP
Thanks to the 286 of you who downloaded our free Shannon RFC APP for our first AIL match last Saturday. We would love some feedback so feel free to email me directly at siofrascanlan@gmail.com
If you still have not downloaded yet here is the link. http://clubapplive.com/shannonrfc
SHANNON RFC SCRAP METAL CHALLENGE SUNDAY
Shannon RFC in association with United Metals are hosting a Scrap Metal day on Sunday 20th October in Coonagh from 11am to 6pm. All scrap metal welcome ( no fridges, gas bottles or beer kegs please). Scrap Cars also accepted and will be collected. Contact Morgan on 086-1735545. Raise funds for your club's development fund.
PLEASE DRIVE CAREFULLY THROUGH COONAGH
We would ask everyone to please take care, slow down and observe the speed limit through Coonagh Village on the way to and from the matches and training.
YOUR CLUB, YOUR THOUGHTS
We always like to hear from our members near and far. If you have a story, any interesting historical information or an article about the club that you would like to share we would love to hear it. Any submissions for consideration can be sent topro@shannonrfc.com.
UPCOMING FIXTURES
Friday 4th October
Thirds- (F)- Shannon V Richmond, Coonagh, 7.30pm
Saturday 5th October
Seniors-AIL-Corinthians V Shannon, Corinthian Park, Galway, 2.30pm
U20s- (F)- Tralee V Shannon, Tralee, 1.30pm
Sunday 6th October
Seconds- MSSL- Shannon V Richmond, Canal Bank, 2.30pm

Thought Of The Week
"Work hard, stay positive"
Regards


Courtesy of Damien Kennedy, Club PRO
J2 side claim good win away to Cashel
Our J2 team claimed a big bonus point away win to Cashel RFC last Friday night, Conor Power crossed the line 5mins into the game when he took a hard line from flyhalf Peter Jones and crashed through 2 tacklers to touch down left of the posts. City kept up the pressure within the 1st half especially with some good link play between backs and forwards but silly penalties kept the scoreline the same. The 2nd half began with City beginning to make mistakes at the breakdown and found themselves letting Cashel get back into the game with two converted penalties to bring the score to 7-6. This was to be Cashel 's last score of the game as City upped the tempo and some clever kicking by Peter Jones saw City 5 yards from the Cashel line. A scrum to City allowed no 8 and captain Jason Power drive over the line and now City led 14-6. On 70 mins some good hands from the backs allowed Damien Kennedy to go around two defenders and score a try to put City 19-6 up. On the last play winger James Halligan went past 3 defenders to score a good individual try. Final score 26-6 to City . Great performance by our J2 team, especially man of the match Aidan O Neill who had a super game in the backrow. Big game for our J1 side next week away to Newport in the 1st game of Division 2.
Super start for our U-18s in League Opener
Our under 18 side got their league campaign off to a winning start last friday night under lights in Kilbarry beating local rivals Carrick on Suir 21-14 in a game that hung in the balance all the way to the final whistle.
In an evenly contested game Carrick took the lead when their number 10 kicked ahead and regathered to score under the posts. Just before halftime we struck back, after great play up the right hand touchline Ryan Phillips crossed for a try which was converted by Conor Brennan.
The second half started with some good interplay between backs and forwards which brought play deep into Carrick territory. After a couple of missed penalties City crossed for a second try throught No.8 and captain Gavin O'Mahony. Again Conor Brennan expertly converted.
Again Carrick struck. After slack defednding the Carrick 10 again crossed for a try which was converted. Game on 14-14.
With 3 minutes remaining we scored what to proved to be the winning try through Jake Phillips. Good running rugby from our backline backed up by fine support play from our forward pack brought us to the Carrick 5metre
line. After a couple of pick and goes from our forwards scrumhalf Jake Phillips sniped around the side of the ruck to score. Conor Brennan added the extras.
A good win filled with many positives but with lots of work to do was the general consensus of coaches Dave Phillips, Michael Wall, Danny May and Simon O'Hara. Well done to man of the match Alan Woods !!

Mini's play in Musgrave Park
Congratulations to everyone involved in our U-11 team playing at half time in the Munster V Dragons game last Saturday night against Killarney RFC. It was a great experience for our young guys who enjoyed every minute of it and we would like to thank Munster rugby for the opportunity.
Fundraiser at Kilcohan
A great night was had last Saturday at the dog track, well done to all involved, the night was a great success and thank you to Kilcohan Dog track for a fantastic night.
Share