Irish U20s Named For New Zealand
11th June 2013 By Munster Rugby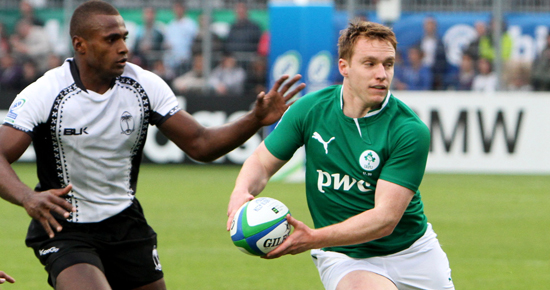 The Irish U20s play their final Pool B game on Thursday against New Zealand U20s at 6.45pm in Vannes.
Rory Scannell starts in the centre with Ryan Murphy and Darren Sweetnam named in the replacements.
Head Coach Mike Ruddock said "This is a big game for both sides, the winner of this will have a guaranteed place in the semi-finals. We have a huge respect for New Zealand rugby and particularly their record at this age grade level, but once the whistle goes on Thursday we will be as competitive as we can be to progress to the next round."
The game kicks off at 5.45pm Irish time and will be televised on TG4.
Ireland Under 20s:
15 – Darragh Leader (Galwegians/Connacht)
14 – Adam Byrne (UCD/Leinster)
13 – Thomas Farrell (Lansdowne/Leinster)
12 – Rory Scannell (Dolphin/Munster)
11 – Rory Scholes (Belfast Harlequins /Ulster)
10 – Steve Crosbie (Old Belvedere/Leinster)
9 – Luke McGrath (UCD/Leinster) Captain
1 – Peter Dooley (Lansdowne/Leinster)
2 – George McGuigan (Newcastle Falcons/Exile)
3 – Christopher Taylor (Malone/Ulster)
4 – Gavin Thornbury (UCD/Leinster)
5- John Donnan (Ballynahinch/Ulster)
6- Daniel Leavy (UCD /Leinster)
7- Josh Van Der Flier (UCD/Leinster)
8 – Conor Joyce (Malone/Ulster)
Replacements:
16- Edward Byrne (UCD /Leinster)
17- Bryan Byrne (UCD/Leinster)
18 – Adam Boland (Lansdowne/Connacht)
19 – Peadar Timmins (UCD/Leinster)
20 – Ryan Murphy (Dolphin/Munster)
21 – David Shanahan (Clontarf/Leinster)
22- Mark Roche (Lansdowne/Connacht)
23 – Darren Sweetnam (UCC/Munster)
Pool B Fixtures and Results – Junior World Championship 2013 (All times are local)
05 Jun, 18:45 Ireland – Australia Stade de la Rabine, Vannes 19-15
05 Jun, 20:45 New Zealand – Fiji Stade de la Rabine, Vannes 59-6
09 Jun, 18:45 Ireland – Fiji Stade de la Rabine, Vannes 46-3
09 Jun, 20:45 New Zealand – Australia Stade de la Rabine, Vannes 14-10
13 Jun, 18:45 New Zealand – Ireland Stade de la Rabine, Vannes
13 Jun, 20:45 Australia – Fiji Stade de la Rabine, Vannes

Share