Club Notes: Week Ending 21.04.13
17th April 2013 By Munster Rugby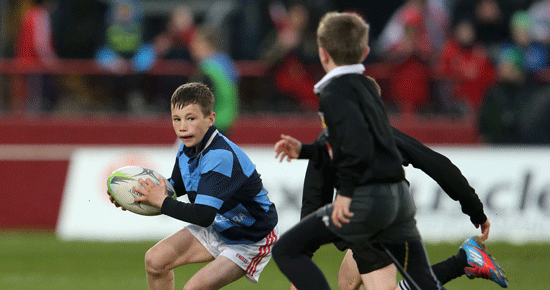 This week's club notes come from Clonakilty, Kilfeacle & District, Shannon and Young Munster Rugby Clubs.
Click here for Clonakilty RFC Club Notes
Click here for Kilfeacle & District RFC Club Notes
Click here for Shannon RFC Club Notes
Click here for Young Munster RFC Club Notes
Kilfeacle & District RFC Courtesy of:- Denis Wade, PRO
Clonakilty RFC:- Courtesy of Roy Maguire, PRO
Last Chance Saloon
Clonakilty's troubled season will come to an end this Saturday in The Vale when they host Richmond for Ireland's last remaining senior ranking position for season 2013 – 2014. By finishing in second last position in the league they threw themselves a lifeline with a play-off against Munster Junior champions and All Ireland Senior Qualifying League runners-up, Richmond from Limerick.
Clon's improved form in recent times and home advantage may well have them as favourites but if so the underdog tag will suit Richmond perfectly. Clonakilty's stirring performance against promotion chasers Naas was followed by another gritty performance against runaway league winners Rainey Old Boys in Magherafelt last Saturday. Rainey who finished the season with an average score of 30 – 11 in their favour conceded two trys and 17 points to Clon in their home ground – their biggest deficit at home all season. Clon were just a little more prone to error than against Naas, particularly in the first half when they had dominant periods.
A well-worked Mike Keohane try and a James Deasy penalty gave the visitors a 10 – 7 lead at half time. The conditions were appalling in the second half but they stuck to the task admirably and were rewarded with a Ciaran Calnan try which Deasy converted magnificently into the gale and rain from the touchline. Unfortunately Rainey's coronation day was not to be spoiled and they managed 23 points in the same period with the benefit of the elements.
The squad was Ciaran Calnan, Kieran Howlin, Jason Wycherley, David Lombard, James Deasy, Mark Purcell, Luke O'Shea, Derry O'Neill, Stephen Cotter, Aidan Foley, Tomas Keogh, Mike Keohane, Ger McCarthy, Tony Illston, Alfie Harte, Batt Duggan (Capt), Gary Shannon, Sean White, Ciaran O'Donovan and Eoin O'Neill.
And so to this weekend's decider. It is a knock out match in the true sense of the word. Richmond will be well up for it following their impressive win over Ulster champions, Portadown last Saturday. Clon will have home advantage but home advantage is no advantage without home support. The Limerick men will travel in large numbers and it is to be hoped that the sporting public will rally round to keep senior rugby in West Cork and ensure that local support is not outnumbered on the day.
The All Ireland League is not only a great opportunity for the youth of the region to play on a national stage but it also contributes significantly to the local economy with up to ten big games bringing large numbers to town often staying two/three nights. Extra parking has been arranged in the technology park for which the club is very grateful.
The Under 17s will hope to bounce back from their disappointing loss to Sligo in The All-Ireland semi-final last Saturday. They still have had a marvellous season winning the south Munster league, the Munster league and they will now play Midleton in a semi-final to see if they can add the South Munster Cup to their season's haul. This will take place in The Vale this Sunday at 2.00pm.
The Lotto draw for week 16/4/13 produced no Jackpot winner but Lucky Dip winners were Conor/Claire Moloney, Clonakilty, Kevin O'Brien, Ballinascarthy and Lorraine Blower, Macroom. The numbers drawn were 15, 19, 23 and 26. Next week's Jackpot will be €8,900.00.
Kilfeacle and District R.F.C. Gain Garryowen Glory
Kilfeacle and District R.F.C. 38
Nenagh Ormond R.F.C. 0
On Sunday the 14th of April Kilfeacle and District RFC faced Nenagh Ormond R.F.C. in Cashel for the Garryowen Cup final. This was Kilfeacle's last game of the season and last chance of obtaining silverware. Both teams had showed some very impressive form coming into this final and both had very realistic chances of winning. Kilfeacle brought that same hunger and intensity to this final that had been present all through the season and gave a very impressive display. Just as hunger is a great sauce then threat of failure can be a great motivator, Kilfeacle's season so far had been one of nearlys and almosts. Our narrow defeat to Cork Con in the quarter final of the Munster Junior Cup being a prime example of this.
Kilfeacle started this game like their lives, depended on it. Within the first five minutes the pack consisting of Simon Barry, Stephen Flood(Captain) , James Mullane, Sean McGrath, Diarmuid O'Donnell, Keith Kearns, Ger Luby, John Hannigan, John Doyle, Jack Sullivan, Alan Mahony and James Ryan (Salmon) had gained the upper hand and soon they were 5 points up and had declared their intent after the backs Packie Burke, Wallace Burke, Keith Burke, Diarmuid Carr, Pat Ryan, Charles Walsh, Shane Morrissey and Bernard Callaghan scored a well worked try. With a strong wind at their backs and in impressive form they had their opponents pinned back and soon scored another unconverted try to go 10 points ahead. At this stage of the game Nenagh Ormond looked shell shocked and Kilfeacle looked menacing. Wave after wave of attack pummelled the Nenagh Ormond side's defences and attempted relieving kicks were held up in the stiff breeze. With just twenty eight minutes gone Nenagh Ormond found themselves struggling against the elements and a very committed opposition. Nenagh Ormond were lucky not to be a further 7 points behind after some more good work by the Kilfeacle created the platform for another line break by. However the wind this time worked against the attacking side as a kick through just bounced a metre too far denying another scoring opportunity. The realisation that unless they raised their game that they could be on the wrong side of a bad, bad result finally sunk in and Nenagh Ormond began to perform better. In the last 15 minutes of the first half Nenagh Ormond were very unlucky not to score a try and restricted Kilfeacle and District to continuously kicking away possession to relieve the pressure. However with the half drawing to a close a fine break by Diarmuid Carr set up the on rushing Ger Luby, who gained great ground before unleashing Charles Walsh, who burst over the line. Shane Morrissey made up for his earlier misses when he scored the conversion. When the whistle went the halftime score read 17 points to 0 for Kilfeacle.
Kilfeacle started the second half with the wind in their faces and within 15 minutes had scored 14 points from two well worked trys scored by CharlesWalsh and Diarmuid Carr which were converted by Shane Morrissey. Nenagh Ormond were under severe pressure however this is where Nenagh Ormond showed their true character and determination. When lesser teams would have buckled under the pressure, Nenagh Ormond rose to the challenge. The next twenty minutes saw both make sides forays into the opposition's 22 but both failed to convert them into scores. The score was now 31 points to 0 in favour of Kilfeacle and there was one more score left. The final score came in the 80th minute and it came in the form of a converted try and it was scored by Diarmuid Carr for Kilfeacle. In the weather conditions the conversion kick, which was the last kick of the game was difficult however not surprisingly was scored by Shane Morrissey and Kilfeacle had deservedly won.
Kilfeacle would like to thank everyone from Nenagh Ormond RFC who travelled on the day and wish the club the best, we know exactly how they feel at losing this final as we were in a similar position in previous years. However they should take heart in the form they have produced in the latter stage of the season as it augers well for the future.
Kilfeacle and District RFC's First team's season has ended and what a season it has been. Although it has not been our most successful year, there are definite indicators that the club is moving in the correct direction. Clubs like Kilfeacle will always be measured by the performance and success of their First team. Third in the league, beaten quarter-finalists in the Munster Junior Cup and Garryowen Cup winners is respectable but doesn't tell the true story of an improving team's efforts for the year. The Garryowen Cup Final victory was not alone wanted but needed as this squad of players deserved a tangible reward for their efforts and commitment over the whole of the season and anyone who was there will agree that the team did the club proud on the day as they have done so on so many occasions without reward. By lifting they have also lifted the expectations of the club by a performance that injected a new sense of belief in the possibilities for the upcoming season.
The team as ever are proud and humbled by the amount of support they receive and hope that their supporters will continue to come along and support the "Boys in Blue".
Shannon RFC Courtesy of:- Siofra Scanlan, PRO
Not the result we needed last week. We know we have it all to do now and would urge all supports to come along to Coonagh on Saturday at 2.30pm as we play Lansdowne.
Match reports are available at http://www.shannonrfc.com/rugby/senior/match-reports.htm
Events and News
Dates for the Diary
Pre-Match Lunch
There will be a Pre-Match lunch held in Shannon RFC Clubhouse before the AIL match on Saturday 20th April at 12.30pm. Tickets are priced Adults €20, OAP/UNWAGED €15 (tickets include lunch and match entry). Anyone interested in reserving a place please contact John Leahy on 086-2562730
President's Walk Sunday April 14th
Many thanks to all who came out to the President's walk last Sunday. The weather held and we all got at least a good 5k in. A big thanks and appreciation to all our stewards on the day, Face-painters, Dj and Maire and all the staff at the Clubhouse. Don't forget if you have not handed in your sponsorship cards you still can to any member of the committee.
Jim McNicholas Memorial Match April 21st
Shannon President Vinny Ryan would like to announce a fixture in memory of his friend Jim McNicholas who died after a short illness early last year. Jim had a long associations with both clubs as player and official having served as Treasurer and President of the Leprechauns and having prematurely passed away while serving as Vice President of Shannon RFC. Jim had many friends in the rugby community and also within the ESB where he worked. Jim, a native of Baal, Co.Mayo is sadly missed by his family and a wide circle of friends. Shannon RFC and the Limerick Leprechauns hope, in Jim's name, to raise badly needed funds for local charities The veteran's game kicks off at 1pm in Coonagh this Sunday april 21st. All Welcome.
Golf Classic: Friday June 21st. Shannon RFC Golf Classic at Shannon Golf Club.
Full details for these events will be available soon.
We Need Your Support
We know we have it all to do and are all only too aware of where we are in the standings. In true Shannon RFC spirit we have never given up and are not about to start now. We thank all of the loyal following of our supporters home and abroad and are urging everyone to come out and show support for the Senior XV this Saturday as they face Lansdowne in a crucial match. You the supporters do make a difference so come along and be heard. Anyone who has watched the recent Munster Heineken Cup match will realise what a difference the supporters do really make to a team. With this in mind please show your pride and support for the club by coming to the match on Saturday.
Shannon RFC AGM
Shannon RFC will be hosting their AGM on the 15th of May at 8pm sharp in Shannon RFC Clubhouse. Any submissions in relation to this AGM are to be logged with Tadhg Crowe, Club Secretary, no later than close of business on the 1st May. Please contact Tadhg Crowe directly at tadhgcrowe@yahoo.com or 087-6524958
All at Shannon RFC would like to thank everyone for their support for all events for 2012 and would urge anyone interested in helping out at the club in 2013 to contact any of the committee members. All contact details are on our website http://www.shannonrfc.com/
Lotto Results 11th April
No Jackpot Winner!
Numbers Drawn: 10, 16, 23, 28
€50 Consolation Prize Winners
1.MICK FLEMING __________C/O NIALL MULCAHY
2.TOM TOBIN_____________C/O PADDY TOBIN
3. BERNIE NICHOLAS_______C/O NIALL MULCAHY
NEXT WEEKS DRAW 18TH APRIL @ THE ARDHU BAR
Next Weeks Jackpot: €8,600
*DON'T FORGET TO SUPPORT YOUR CLUB WITH SHANNON RFC CLUB CALENDERS AVAILABLE NOW.*
Please keep in mind the Shannon RFC clubhouse for any event, birthdays celebrations or office parties. All contact details can be found at
http://www.shannonrfc.com/club/parties-a-functions.htm

Please find the Senior fixtures and Youth Training as follows:
Saturday April 6th
AIL- Senior XV- Shannon V Lansdowne Coonagh at 2.30pm
Underage Training Weekend Saturday/Sunday
Saturday 20th
2.30pm
U12 Ballina (Mayo) Blitz

11.00am
U13 Black & Blue Pat Lawler festival UL Bohs

Sunday 21st
Minis 10 am
U6/7 Main Pitch
U8 Main Pitch
U9 Blitz v Old Wesley New Pitch
U10 Blitz Well Pitch
U11 Training Pitch

Youths
12 noon
U17 Open Cup Shannon/St Mary's V Kilrush @ Coonagh Well Field

Pitches available for any other team training

Not so Youthful
Jim Mc Nicholas memorial match
1.00pm
Limerick Leprechauns v Shannon RFC Main Pitch
followed by drinks and food in clubhouse (coaches bring your boots as your expected to tog out)

Tuesday 23rd April
7.00pm
U15 Cup Final Shannon v winners of Bruff v Old Crescent provisionally set for Tom Clifford Park
A huge Thanks to all coaches,parents and players who helped to make last Saturday in Coonagh such a huge success. From 11.00am to 5.00 pm Coonagh was buzzing there must have been 6/700 people out there, all were fed and watered and went home happy. Well done to all.
Boots – Blades.
Note: We (Underage) at Shannon RFC are putting into place a complete ban on boots with blades. The injury to a young u15 player early this season at the club has focused the mind on the horrific injury he had to suffer. He has had a long period of recovery and we want to make sure that no other player suffers a similar injury. It is important that parents are advised at this point as lots of kids will be looking to get new boots for Christmas. When checking boots, Referees will be paying particular attention to 'blades' and if they are in any way damaged/rough then they will not allow them.
Thought For The Week
Look not mournfully into the past, it comes not back again. Wisely improve the present, it is now only once. Go forth to meet the future without fear and with a brave heart.
Club Shop
Please keep in mind for Birthdays and special occasions we have a great selection of Shannon RFC clubware available from the club shop.
Now in Stock:
Windbreakers, Club Gearbags and small size club jerseys and shorts.
The shop is open in Coonagh every Sunday from 10am to 12pm.
Anyone who wishes to order any items please contact Audry Yeoman on yeomanhannon@gmail.com or 087 6293002
Young Munster RFC Courtesy of:- Olivia O'Sullivan, PRO
Young Munster complete double over Shannon

By Killian McCarthy
After six defeats on the spin, with little to play for but pride, and with the end of the season looming large, hoisting the motivation levels high enough to contest – let alone win – an AIL game is commendable in itself.
Thankfully, a local derby gets the dander up like little else, particularly when Shannon are 'welcomed' to Greenfields. Throw in plenty of pride in the jersey, a vociferous crowd, and toss the formbook out the window and you have a contest that dwarfs the professional fare served up in Thomond Park.

The Cookies set the tone early on, mixing the physical graft up front with plenty of guile in the back division. As early as the ninth minute a kickable 3-pointer was eschewed in favour of dinking the ball into the corner. It came to nought but the gauntlet had been thrown down.
After Shannon scrum half Rob Guerin had missed a penalty at the clubhouse end, the home side came roaring back. A blistering Mark Doyle break brought play over halfway and his inside pass found Seán Duggan, only for the rangy second row to unluckily spill the ball.

Winning in the territory stakes, it seemed a matter of time before Munsters made hay on the scoreboard. Step forward Darragh O'Neill in the 19th minute to provide a moment of individual brilliance. The diminutive winger stepped in to act as scrum half at an innocuous looking ruck in midfield. Spotting half a gap at the side of the ruck he darted into open country and turned on the afterburners to leave two would-be Shannon tacklers in his wake and dot down to the left of the posts.
Shane O'Leary made no mistake with his conversion attempt and Munsters were up and running.

10 minutes later Munsters had turned down two more kickable penalties but finding their efforts thwarted they settled for the shot at goal at the third time of asking. Shane O'Leary added to his burgeoning reputation from the kicking tee to leave his side 10 points to the good and he repeated the dose in first half injury time to leave the scoreboard reading Young Munster 13 Shannon 0 at the short whistle.

With news of a UL Bohemians lead filtering through from Annacotty, the parish side were certainly eager to bridge the gap in the second 40′. Any hopes of a Shannon revival were thwarted early in the second period, however. With Guerin serving 10 minutes in the sin bin, and winger David O'Donovan acting as scrum-half there was ample space for Munsters to exploit in the wide channels.
In the 45th minutes, Mark Doyle took a sumptuous line past the soft shoulder of opposite number Eric Moloney after a spell of sustained pressure in the Shannon half. The would-be centre's try went unconverted from wide on the left but the hosts seemed satisfied that they could keep Shannon at bay for what remained of the game.
Some colourful language came spilling from the Shannon huddle as they sought to salvage something from the game but a solid Munsters set piece, coupled with impressive industry out wide from wingers Craig O'Hanlon and try-scorer O'Neill repeatedly kept the visitors at bay.
Indeed, nowhere was Munsters' commitment to the cause better illustrated than in a thundering Seán Duggan hit that not only rocked his opponent backwards, but ultimately forced a penalty.

With the result increasingly likely, and with frustration building the game degenerated on occasion into bouts of fisticuffs and the penalty count against both sides crept up. The scoreboard wasn't troubled however, and the game finished 18-0 to Young Munster.

With minutes to go, there was a resounding round of applause as Mike Prendergast was substituted. It was the player/coach's final game at Tom Clifford Park after serving the club with distinction. We wish him well in his new venture, taking over as Skills Coach for French outfit Grenoble.

With pride restored, and the double over Shannon recorded for the second year running, we can look forward to our final game of the season away to St. Mary's College this coming Saturday at 2:30.

Final score: Young Munster 18 – 0 Shannon
Young Munster: Derry O'Connor, Craig O'Hanlon, Harry McNulty, Mark Doyle, Darragh O'Neill, Shane O'Leary, Mike Prendergast, Alan Cotter, Ger Slattery, Hugh McGrath, Seán Duggan, Tom Goggin, Neville Melbourne, Darren Ryan, Mark Rowley.
Subs: Daniel Montgomery, Darragh Cantillon, Luke Russell, Lukas Kunz, Evan Mulcahy.

Shannon: James Loxton, Mike D'Arcy, Eric Moloney, Richie Mullane, David O'Donovan, Tadhg Bennett, Rob Guerin, Marcus Horan, Duncan Casey, Gary MacNamara, Fergal Walsh, Seán McCarthy, Emmet McLoughlin, Leonard Mullane, John Shine.
Subs: Jason Cronin, Mark Corby, Mike Culhane, James Murphy, Shane McNamara

———————–
Fixtures
Saturday 20th April
Ulster Bank League Div 1A:
St Mary's v Young Munster, Templeville Road 2.30pm
LAST AIL GAME OF THE SEASON
Saturday 20th April
Shannon RFC 3rds v Barton RFC
12pm Coonagh

Sunday 21st April
Munster Seconds League Final:
Young Munster V UL Bohemians, Tom Clifford Park 3pm

Tuesday 23rd April
North Munster U21 Semi Final:
UL Bohemians v Young Munster, Annacotty 6pm
Share