Countdown Begins
9th January 2013 By Munster Rugby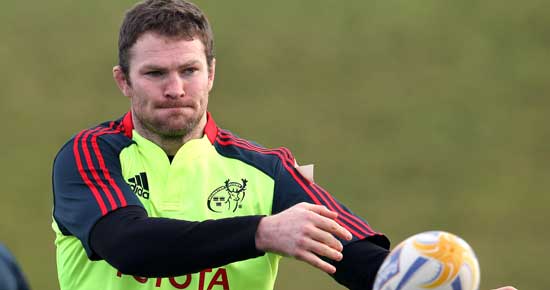 Except for the notable exceptions Munster should be dealing from a full deck when they select their side for the Heineken Cup game against Edinburgh at Murrayfield on Sunday.
Of the trio injured in the game last Saturday, the least concern is about Stephen Archer and Conor Murray while Mick Sherry will be further assessed later while Damien Varley returns having missed the Cardiff game through illness.
But the countdown to that game begins in earnest today in Limerick with Donnacha Ryan confident that the side can bounce back from the disappointing performance at Musgrave Park.
"I have absolutely no doubt we can." he says. " In that game we knocked on the ball a lot. Set piece didn't function as we would have liked and we ran into touch so many times. You're releasing pressure on the opposition when you do that and so we didn't give ourselves much of a chance.
"The answers to all that are within us. It's a case of making the decision to attack in the areas we need to attack and following through with precision and accuracy. We didn't do that last weekend.
"Obviously we were very disappointed to lose last weekend. Especially to lose at home in front of our own crowd. But this is a different competition this week. Different focus for us this week and certainly there's no point in us dwelling too long on it, be really positive.
"We did a lot of good things last weekend. We just need to be a lot more clinical when we do get in the right areas.
"We are under no illusions what's required this weekend. We'll look to our performance first and foremost and take it from there really."
Share