Flat Munster Pay The Price
1st October 2012 By jess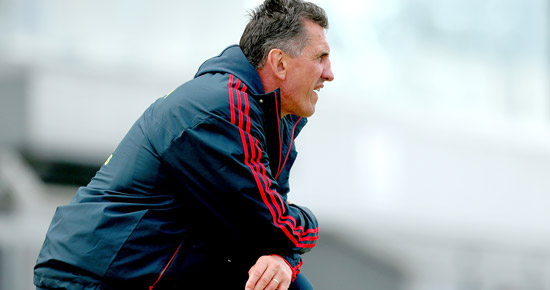 Just like Leinster the day before, Munster learned to their cost that in the ultra competitive RaboDirect PRO12, anything less than 100% can leave you you looking fairly ordinary.
Some weeks back you knew Rob Penney wasn't the type to lose the run of himself when he said "It's early days yet", for his side had recorded their third win. Nor is he likely to now after defeat in the Liberty Stadium last Saturday.
And he was his customary frank self speaking to media afterwards. "We didn't bring anything," was his immediate reaction when asked what he thought of his side's performance. "For some reason we were flat. We lacked the intensity and the physicality we've had the last few weeks. Ospreys did bloody well and beat us up a bit."
Asked if there were any positives to be taken from the game. "It's just another step along the learning path." he said. "People within the group are still finding their way in terms of their mental preparation and their ability to travel and be in another environment. We coped with that well a couple of times. We didn't cope with it well today. So they've (players) had a time in the jersey and that's a bonus".
In terms of the Opspreys? "Yes I thought that what they did was effecient. They were hurting probably after having some poor results here (Liberty Stadium) early on in the season. And they came to play and we couldn't match it. What they bought was what we needed to have a bit of."
And then asked if he's trying to change Munster's style to a more expansive way he replied. "No I'm just trying to allow the players the scope to play rugby when it's on to play. And to attack opportunities in the defensive alignment where they present themselves as opposed to trying I suppose, pre-programme them too much. So they've got an opportunity to attack the frailties in a defence. So it's a learning process that we're all going through together."
And what kind of shape does he believe Munster are in ahead of the Heineken Cup? "We'll be on the roller coaster ride that we always said we'd be on. If we turn up and we play, we're capable of being a competitive unit. If we don't turn up, that's the sort of performance we'll get."
Share